TEN WAYS GOVERNMENT WRECKS THE ECONOMY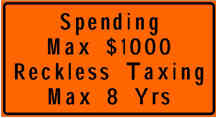 How does government wreck the economy? Anything that unbalances markets causes the markets to rebalance in ways that costs people money and hurts the poor.
The following government activities harm the economy:
Explanation of each way government wrecks the economy:
The bare truth is that government can't do good when it tries to do good. It usually causes harm instead.
Stop asking for more from government. You will regret getting what you asked for.
LINKS: