TOP 10 WAYS GOVERNMENT BEHAVES GREEDILY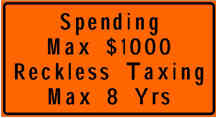 Government puts itself first at the expense of other people. Legislators are too greedy for money and power.
Here are the top ten ways government behaves in a greedy way:
Explanation of each greedy act:
The biggest problem with politicians is that they become greedy once they get into office.
LINKS: