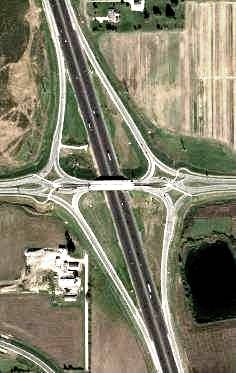 This improvement, also called a Double Crossover Diamond (DCD), increases the capacity of a diamond interchange if a large portion of the traffic makes left turns. It reduces the number of signal phases to two. A regular diamond interchange needs two to six phases, increasing delays to drivers.
Note that the straight-ahead capacity on the cross street of a DDI is less than the straight-ahead capacity of a regular diamond interchange.
The Diverging Diamond Interchange accomplishes this by crossing the two directions of flow on the cross street. Traffic crossing the bridge (or driving under it) on the cross street drives on the left side of the road. The two traffic signals control the crossing of the two streams.
Left turns do not have to wait for a special signal phase to turn across oncoming traffic. They crossed oncoming traffic at the other end of the interchange.
The traffic turning onto the cross street can also be controlled by the same signal that controls the crossing of the two directions of traffic on the cross street, without extra signal phases.
Existing diamond interchanges can be retrofit with this design.
To see a larger version of the image, right click and choose "View Image". Then use 'ctrl +' to increase the size.
One DDI in Utah was removed in 2019 because development increased the straight-ahead traffic on the cross street to the point where the DDI could not pass the traffic.