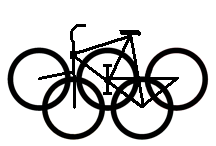 HOW DID RECYCLING BECOME SO HARD?
When I was young, recycling was easy. They set up boxes for each kind of recyclable in many buildings on campus. When you were finished with your soda, candy bar wrapper, or magazine ad inserts, you put it in the proper bin.
What happened? Now there are so many wacky rules that you don't know whether or not you can recycle it or which bin to put it in.
One big problem is that the rules are different in different places. Different cities, towns, counties, townships and other places had their own rules.
Another big problem is that the rules keep changing. What you could recycle yesterday you can't recycle today.
Here are some of the rules the average person wanting to recycle something must obey:
It must have the triangle symbol with a number the recycling agency will take.
Sometimes a particular triangle number is restricted to certain forms of that plastic.
The triangle symbols on some items are so small that magnification is needed.
Sometimes there are several triangle symbols in the package for different parts of the package and product.
They now require you to wash any container (no tossing in an empty soda bottle or can).
After washing it, you have to dry it.
Some agencies set size limits on recycled objects.
Some take aerosol cans, some take only certain product cans, some require emptying the can, and some won't take them.
Some won't take paper or cardboard with plastic or wax coatings.
Some won't take colored or printed paper.
One wrongly recycled item can cause an entire load of recycling to be rejected.
Lids must be removed from bottles and jars and recycled separately.
Some metals are allowed. Some are not. But which metal is which?
Here are the awful results of such complication:
Children will always put the item in the wrong place because they can't learn the complicated rules.
Elderly people will not be able to keep track of the current list of recyclables.
Many people don't recycle a recyclable item because they do not have time to clean it.
Others recycle the item without cleaning it because they do not have time.
What do you do with grease? Recycling doesn't want it, the trash doesn't want it, the sewer system doe snot want it, and it's illegal to burn it.
So why is it such a mess? The government agencies and businesses collect only the real materials that they actually have markets for. If they gain a market for something, they start taking it in the recycling, and if the market disappears, they stop taking that item.
Maybe a law standardizing what is recycled is needed to get rid of the variability and confusion.