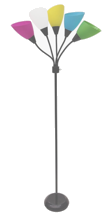 Lamps with Photodegrading Lamp Shades
These lamps are quite nice when they are new.
The problem is the kind of plastic the lampshades are made of.
This plastic photodegrades (deteriorates when exposed to strong light).
The plastic becomes extremely brittle when photodegraded.
After three or four years of use, the lampshades crack or shatter.
Ultraviolet light from CFL and LED bulbs may speed the photodegrading.
The page author has had one of these lamps for 9 years.
 - Only CFL and LED bulbs have been in the lamp.
 - The lampshades broke and were replaced after 4 years and after 8 years.
 - The replacements cost almost as much as the lamp.