CONTRAFLOW-LEFT INTERCHANGE
I-69 AT THIRD STREET (INDIANA 48)
IN BLOOMINGTON INDIANA
WOULD IT WORK? CAN IT BE BUILT?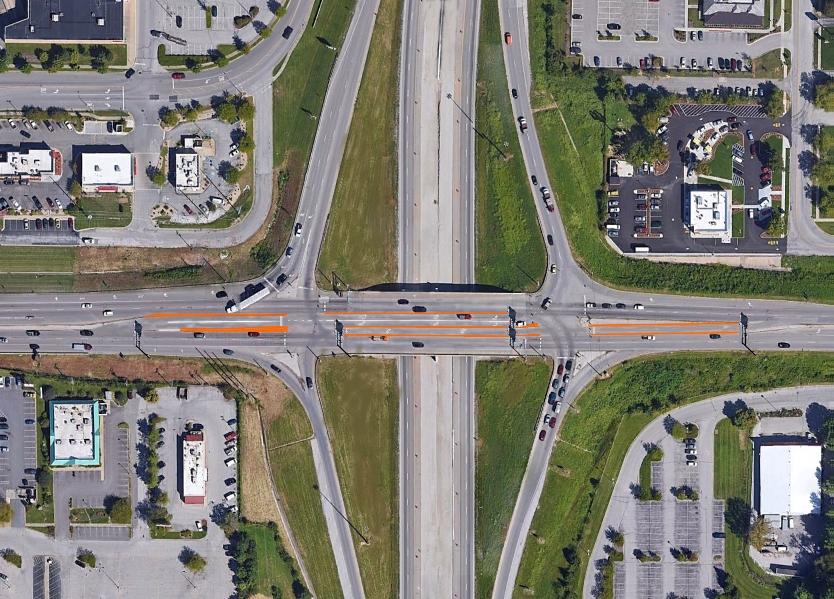 Third Street at Interstate 69 and Indiana 37
I-69 and IN-37 run north and south (vertical in the photo). Third Street runs east and west. The orange lines are the small barriers needed to separate traffic moving in opposite directions.
---
The Plan
The basic plan is to rearrange the lanes in this tight urban diamond interchange (TUDI) to make the left turn lanes pass to the left of each other. Special overhead signs direct traffic to the proper lanes. The following diagram shows the lane uses intended:
ADVANTAGES:
Allows storage of more left turns entering Indiana 37
Left turns from 3rd Street don't cross each other's paths
Allows a longer cycle length for the traffic signals
Fits in the current space
Minimal costs to convert interchange
Can use a single signal controller with double clearance functions for both intersections
Can use lead-lead, lead-lag, or lag-lag signal phasing
Can handle discharge of long queues from one direction on 3rd St
DISADVANTAGES:
Left turn traffic can back up, blocking the other intersection
Will not help the jams at adjacent intersections
Possible confusion because left turns pass between lanes going the other way
Does not improve off-ramp left turns
Needs special signs
Requires some painted lines to always be present
Cannot use permissive left turn phasing