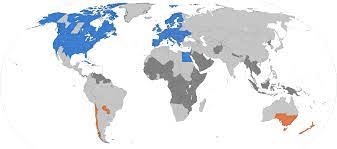 blue=north summer
orange=south summer
light gray=stopped DST
dark gray = never had DST

OBSERVING A FORM OF DAYLIGHT-SAVING TIME
Unfortunately Daylight-saving time was invented by Benjamin Franklin in 1874.
At the time he was joking about to Parisians turning clocks forward an hour to save candle wax.
DST was pretty much forgotten until World War I, when Congress required it to save fuel and electricity.
After World War I, DST was removed until World War II, when it was again required.
After World War II, several states decided to keep using DST. Other countries also adopted it.
Note that the seasons are reversed in the southern hemisphere. This means:
 - The southern hemisphere summer is during the northern hemisphere winter.
 - Southern hemisphere daylight-saving time is during the southern hemisphere summer.
Daylight-saving time is useless in the Torrid Zone (near the equator).
Many countries adopted DST as a fad, and then got rid of its nuisance later.
After air conditioning came into use, DST could no longer save energy.