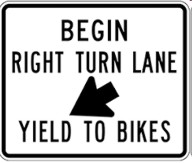 DANGEROUS
BIKES-FIRST
THINKING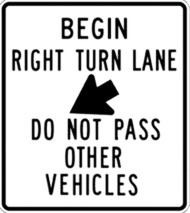 THE SAFE WAY

RIGHT TURN YIELD TO BIKES
RIGHT TURNS YIELD TO BIKES does not work because the right turning driver often cannot see the bicycle coming up from behind on the right. The rear roof posts and the narrow fields of mirrors restrict vision, especially to the right back. Also, once a truck starts a turn, the mirrors point the wrong way for the driver to see a bicycle.
If the bicycle passes the right turning driver on the right and thinks he has the right-of-way, the right turning driver might never be able to see the bicycle before hitting it. Often the back of the right turning vehicle hits the bicycle from the side. When this happens, often the bicycle is knocked over sideways, and in many cases, the back wheels of the vehicle run over the rider.
This is a selfish political rule intended to give favor to the bicycle. It is dangerous and should be abolished. Politicians must not favor one type of transportation over another for either political or environmental reasons.
A large truck making a right turn at a tight intersection must swing to the left (often into the next lane) before making the turn to get the back wheels or trailer wheels away from the corner curb. Then it must turn sharply to the right (often entering the oncoming lanes of the cross street) to make the turn. Buses and other long vehicles have the same problem.
Trucks are not doing this just to make the turn easier. If they don't do this, their back wheels will cross the curb and they might hit pedestrians or signposts.
It is illegal to pass on the right of any vehicle signaling a right turn.
It is illegal to pass on the left of any vehicle signaling a left turn.
It is also illegal to pass any vehicle when approaching or within an intersection.
It is also illegal to pass another vehicle in the same lane.
The rule should be the same for all vehicle types. DO NOT PASS where a right turn crosses a bike lane. The vehicle in front must remain in front and the other vehicle must not pass it. The second vehicle must not even pull up even to it - it must remain behind the lead vehicle until both have passed through the intersection.
Never pass a turning vehicle on the side it is signaling to turn toward.
Never pass when approaching or within an intersection.
Never pass when approaching or within a roundabout.
Cars and bikes must not pass each other when approaching an intersection.