Calculations at 120 Volts:
10 W / 120 V = 0.0833 A
120 V / 0.0833 A = 1440 Ω
3 W / 120 V = 0.0025 A
120 V / 0.0025 A = 4800 Ω

Calculations at 24 Volts:
24 V / 1440 Ω = 0.0167 A
24 V × 0.0167 A = 0.4 W
24 V / 4800 Ω = 0.005 A
24 V × 0.005 A = 0.12 W
I bought a second thermostat and mounted it just above the baseboard at floor level. I used a Honeywell CT31 A1003 with a slotted cover over it to protect it from foot traffic. These thermostats must be simple thermostats, not electronic ones.
I connected the heat connections of the floor thermostat to the terminals across the anticipator heater of the other thermostat, as shown in the diagram.
The connection marked $ has no screw terminal and must be soldered. Also, cut the jumper at x.
The light bulb is optional. Its purpose is to make the anticipator on the floor thermostat operate. Use a 120 V bulb between 3 W and 10 W, and keep it away from the thermostats.
Set the floor thermostat 2 to 4 degrees below the setting on the wall thermostat.
Set the wall anticipator for normal operation. Set the floor anticipator experimentally to get the amount of extra heat needed.
To enable the floor thermostat, set its switch to HEAT.
To disable it, set its switch to OFF.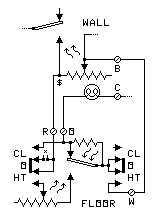 The two switches shown
are ganged.