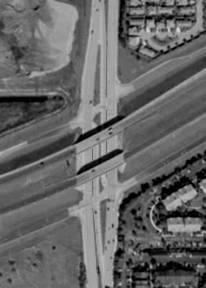 This is halfway to a Diverging Diamond. Only the left turns entering the freeway are crossed to the other side.
There are three divider strips on or under the bridge for crossroad traffic. The left turns pass to the left of the left turns going the other way, but the straight ahead traffic stays on the right.
This improvement increases the capacity of the interchange, and allows a longer signal cycle.
This does not reduce the traffic signals to only two phases like the DDI does. It reduces the phases required from six to three, and allows more flexible signal operation.
Note that this does not increase the capacity of the left turns on the exit ramps the way the Diverging Diamond can.
There can be two left turn lanes if the entrance ramp has two lanes to take two streams to increase the capacity of the left turns.
Existing diamond interchanges can be retrofit with this design if there is room for the dividers.
To see a larger version of the image, right click and choose "View Image". Then use 'ctrl +' to increase the size.